Main content starts here, tab to start navigating
Menus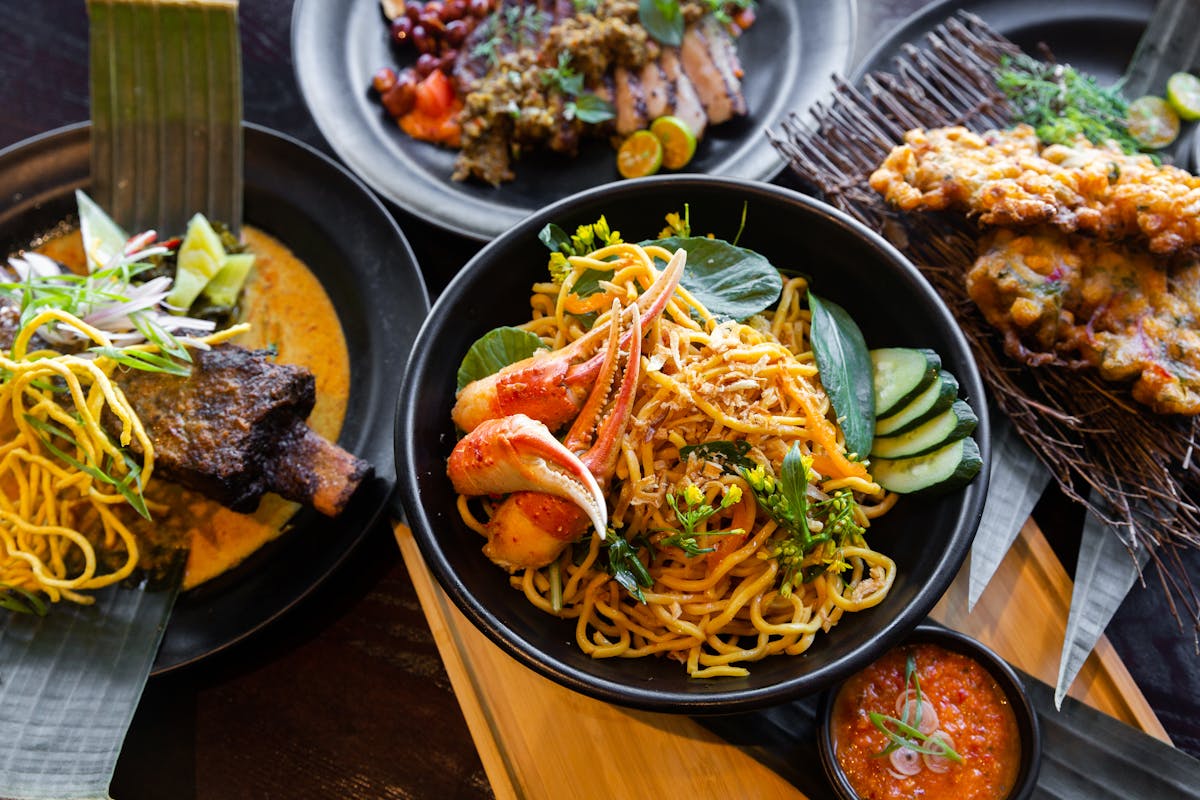 The menu for Warung Siska reflects Chef Siska's passion for sustainability and local ingredients. Raised in a culture where eating what you catch and growing your own food from the land is a natural way of life, her cultural heritage informs her cooking philosophy. Rather than purchasing frozen or canned Indonesian ingredients not available fresh in the Bay Area to recreate her childhood favorites, Chef Siska sources locally with a focus on working with farmers and producers who practice sustainability. The result? A modern interpretation of classic Indonesian cuisine with a Californian influence.
Our food is served as it is served in warungs all over Indonesia -- family style to encourage sharing and delivered to your table as soon as it is freshly prepared in our kitchen.
CEMILAN | SMALL PLATES
Sop Soto Ayam • Turmeric Chicken Noodle Soup

tomato, egg, noodle, cabbage, beansprouts, scallion + fried shallots

$14

gluten free

Bakwan • Corn Fritters

sweet corn, okra, green onions + makrut lime leaves

$14

wheat, vegan

Ikan Gohu • Ternate Fish Crudo

seasonal local fish, chilies, shallot, lemon basil, calamansi + peanuts

$17

gluten free, fish

Gado Gado Salad • Indonesian Salad

indonesian salad of tempeh, tofu, egg, bean sprouts, cabbage, carrot, potatoes, green beans + cherry tomatoes; served with a choice of peanut dressing, spicy shrimp paste or turmeric dressing

$14

peanut, gluten free, vegetarian, vegan, organic

Krupuk • Garlic Chips

crisp garlic crackers + sea salt

$5

gluten free, vegan
HIDANGAN | MAIN PLATES
Sate Ayam • Chicken Sate

mary's organic chicken, turmeric, peanut sauce + cucumber-shallot pickles

$20

peanut, gluten free

Sate Udang • Shrimp Sate

head on gulf shrimp, garlic, soy + chili sauce

$25

shellfish, gluten free

Otak Otak • Sumatran Steamed Fish

ground seasonal fish, grated coconut, makrut lime leaves, shallots, basil + lemongrass relish

$24

gluten free, fish

Duck Betutu • Balinese Roast Duck

organic sonoma farms duck legs, balinese spices, sautéed bok choy, tomato relish + peanuts

$25

shellfish, gluten free, fish

Kalio Brisket • Curry Brasied Beef Brisket

boneless beef brisket, clove-turmeric curry reduction + pickled mustard greens

$29

gluten free

Mie Saus Padang • Padang Sauce Noodles

shrimp, squid, mussels sautéed in a curry-tomato sauce + egg noodles

$24

shellfish, wheat

Tempeh Balado • Tempeh Sambal

budiman's tempeh, tofu, chilies, tomatoes + lemon basil

$18

gluten free, vegetarian, vegan

Gulai Sayur • Vegetable Curry

green beans, chayote + jackfruit in a yellow curry, chili fried egg + garlic chips

$18

vegetarian, vegan, organic
SISI | SIDES
Steamed Jasmine Rice

$3

vegetarian, vegan, kosher
Gluten Free, Vegetarian or Vegan indicates that these preparations are available upon request. Please indicate your preference in your order.
Consuming raw or under-cooked meats, poultry, seafood, shellfish, or eggs may increase your risk of food borne illness.
Zero Proof
Coconut Water • Taste Nirvana

sustainably farmed, non-gmo coconut water nakorn pathom, thailand

$6

Gingerade • Synergy Kombucha

black tea, green tea, kiwi, fresh-pressed ginger

$7

Guava Goddess • Synergy Kombucha

black tea, green tea, kiwi, guava puree

$7

Soda Gembira • Happy Soda

condensed milk, strawberry syrup + whipped cream

$5
Draft Beers
4 oz $2.50 | 8 oz $4 | 16 oz $7 | 24 oz $12
STS Pilsner • RRV BREWING Co • Sonoma Co.

.15L $6

.30L $8

West Coast IPA • GHOST TOWN • Berkeley

.15L $6

.30L $8

Pliny the Elder Double India Pale Ale • RRV BREWING Co • Sonoma County

.15L $7

.30L $10

Pale Ale • CHÁU TIÊN • Santa Rosa

.15L $6

.30L $8
Premium Tap Wines
Sauvignon Blanc • ST. SUPERY ESTATE • Napa • 2018

.15L $12

.5L $35

.75L $45

Rose • BIELER PÈRE + FILS • AIX-EN-PROVENCE • 2017

.15L $11

.5 $30

.75 $41

Pinot Noir • Rita's Earth • Santa Rita Hills • 2018

.15L $13

.5L $38

.75L $49

Sparkling • Codorniu • Barcelona • NV

187ml $12
Sake
Sequoia Genshu Sake

Full-strength sake, luscious on the palate with dried fruits and hints of anise and spice on the finish. Nice for pairing with similarly spicy foods. (17.5 ABV)

375 ml $42

750 ml $80

Sequoia Nigori Unpasteruized

This lightly cloudy Nigori has delicate aromas of lychee and apricot, reminiscent of spring flowers, a creamy, supple mouthfeel and a clean finish due to the use of more highly refined sake lees. The Bunny is soft and approachable, and this refreshing and utterly drinkable style Nigori strikes an excellent balance between sweet and dry. Try with strawberries other fresh fruit desserts.

375 ml $42
Desserts
Es Cendol • Indonesian Style Boba

mung bean four jelly, coconut milk + pandan-palm sugar

$6

Panna Cotta • Coconut Lemongrass

sesame coconut caramel + candied orange

$11
At Warung Siska, we are very proud to serve Sequoia Sake, the first local artisan sake brewery in San Francisco. We have specifically selected Sequoia Sake to pair with our modern Indonesian cuisine not only because of their dedication to the exclusive use of locally sourced California ingredients to produce their all-natural artisan sake, but also because their Sequoia Genshu Unpasteurized Sake resembles the flavor profile of Tuak Batak, an Indonesian wine popular in North Sumatra, chef Siska's home town.
Made with either palm or rice, Tuak is an Indonesian wine that is traditionally consumed during festivals and celebrations. In recent time, Tuak has become popular in other many regions of Indonesia and is now enjoyed alongside meals – even in noncelebration times.
For the ultimate modern warung experience, try a bottle of Sequoia Sake with your next meal at Warung Siska and support our friends at Sequoia Sake!